I know we all have time to sit around and read for leisure. And we all love to read a good book on education and reform. But there are really good resources and books out there that are relevant to education today.
As more come our way, we will update..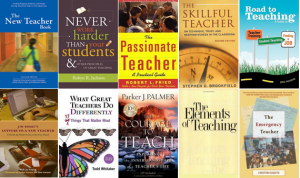 Popular High School Teacher Blogs
Want some insight into the everyday life of a high school teacher? These blogs show the humorous side of things, the serious side of things and everything else in between.
The Nerdy Teacher This blog provides product reviews, inspiration, humor, and great resources for project-based learning in the high school English classroom. Great for any teacher looking to implement project-based learning in their classroom.
World History Educators This blog is a cooperative effort from many different history and social studies teachers. They often update twice daily with commentary on the state of modern education and resources for the history classroom. Great for history teachers who want to connect with their colleagues and share resources.
Math Notations Math teachers will appreciate this blog's focus on providing a plethora of problems to use in the classroom — especially the SAT preparatory questions. Great for readers who want to incorporate daily SAT math practice into their lesson plans.
Coach In and Out This science teacher focuses on sharing lesson plans and learning objectives he has found particularly helpful in boosting student performance. Great for readers looking for resources for a science classroom.
An Urban Teacher's Education Looking for more of a general overview of current issues in education? This Seattle-based blogger tackles the tricky questions confronting today's educators. Great for readers interested in current issues in education policy and reform.
Teach for Us Corps members from the Teach for America program share honest accounts of daily life in the trenches as a teacher in a high-needs school. Great for readers working with at-risk populations in education or readers considering applying to Teach for America.
Integrating Tech In this blog, Scott Snyder chronicles his successes at integrating technology into his daily practice as an educator. Great for readers looking to use more technology in their own classrooms.
The Jose Vilson This math teacher and data analyst combines classroom issues with philosophical musings on the value of education and the steps necessary to empower students. Great for readers looking for a more philosophical view of education.
Elementary School Teacher Blogs
Homeroom – The official blog of the United States Department of Education, this blog is regularly updated with posts about instructional resources, educational reform, technology use in the classroom, and inspiring stories of real-life teachers and students.
4 the Love of Teaching – This blog features classroom management techniques, lesson plan ideas, and humorous anecdotes from a current fourth grade teacher.
Learning is Messy – This blog is written by an elementary school teacher of over 30 years who is currently a facilitator of the STEM program for elementary schools in Nevada. The blog mainly focuses on STEM legislation, classroom technology, and teaching experiences and lesson plans in the sciences.
5th Grade Rocks, 5th Grade Rules – These "ramblings of a fifth grade teacher" include creative classroom ideas, lesson plans, a lengthy listing of teacher resources, and some good-hearted fun!
A Year of Reading – Two teachers run a blog devoted to reviews of children's books. This is a fantastic resource for teachers looking for new literature to use in the classroom.
Two Writing Teachers – Ruth Ayres and Stacey Shubitz, a writing coach and a literacy specialist, respectively, are both former elementary school teachers. These two women update this blog with tips and insights about teaching writing in elementary schools.
The Teaching Palette – This blog contains helpful resources for teaching art in elementary schools.
The Schroeder Page – This blog explores innovative ideas for teaching science, based on the experiences of a second grade teacher.
Ladybug's Teacher Files – An elementary school teacher who has worked with ELL students in grades K-5 shares her experiences, lesson plans, and classroom decoration and organization ideas.
A Cupcake for the Teacher – The blog of this first grade teacher contains "sweet" lesson ideas, craft projects, incentive programs, and teacher freebies.
Cool Cat Teacher – Vicki Davis, author and classroom teacher, blogs prolifically about classroom assessment, technology, education news, innovative classroom ideas, teaching anecdotes, and so much more.
Regurgitated Alpha Bits – This blog by an elementary school teacher is full of inspiring anecdotes and insights into the frustrations and joys of working in an elementary school.
Middle School Teacher Education Blogs
•Bridging Differences Authored by teacher Deborah Meier, this Education Week blog discusses issues affecting students, teachers and schools.
•OpEducation A round-table opinion blog for educators, improving dialogue among educators for the advancement of education nationwide.
•Blogs at Edutopia.org Searchable by topics, such as Brain-Based Learning, Game-Based Learning, New-Teacher Support, Social and Emotional Learning, Student Engagement and Technology Integration.
•Classroom Q & A With Larry Ferlazzo This blog authored by teacher Larry Ferlazzo answers questions on a variety of educational topics.
•Scholastic.com Teacher Blogs A daily blog by teachers with an extensive searchable blog archive, offering lesson ideas, classroom strategies, book lists and videos.
•TweenTeacher.com Authored by Heather Wolpert-Gawron, a middle school teacher who was the California Regional Teacher of the year in 2004 and the San Gabriel Valley Outstanding Computer Using Educator in 2009.
•Cossondra George A middle school teacher, Cossondra George discusses her experiences and offers resources for other middle school teachers. Her award-winning blog was voted Top 30 blogs for Teachers in 2012 and won the 2011 Fascination Award for Top 100 blogs.
•Learner Log Offered by the Annenberg Learner, this blog furthers the mission of excellence in education.